MotoGP San Marino
19 September 2021
The 2021 San Marino MotoGP takes place at the Misano World Circuit Marco Simoncelli, which was renamed in 2012 to honour a local motorcycle racer who died the previous year.
Originally designed in 1969, the circuit began hosting the San Marino Grand Prix as part of the MotoGP World Championship in 2007.
The track features six left turns and ten right turns, with its longest straight measuring 530 metres. The 2016 event saw Dani Pedrosa from the Repsol Honda team take pole position, with Valentino Rossi of Movistar Yamaha MotoGP a close second. Rossi, in fact, grew up in the local region and remains a favourite at this event.
Your 2021 San Marino MotoGP package includes a few nights in the tiny republic of San Marino, the fifth smallest independent country in the world. This landlocked nation, home to just 30 000 people, is also the world's oldest constitutional republic, founded in 300 AD.
Ensure you do not miss this thrilling motorsport event in one of Italy's most unique destinations and get your MotoGP San Marino tickets soon! Get in touch with us to discuss package inclusions and options, as well as your travel requirements in further detail.
---
Destinations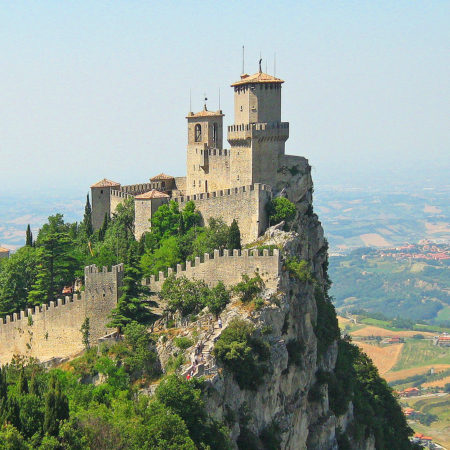 The fascinating constitutional republic of San Marino is the fifth smallest independent country in the world and is a favourite day-trip destination for visitors to Italy. The historic centre of the Republic is Monte Titano, which sits 749 metres above sea level, providing spectacular views of the surrounding countryside.
Some of the highlights of San Marino include the waxworks museum, the restored medieval-style citadel and the Giovanni Michelucci church which was built in the 1960s. Just 25km away is the Riviera Di Rimini, which is a big drawcard for locals and international travellers alike.
Rimini is an ideal summer destination and is the picture of Italian fun: gelato at the beachside, dusk till dawn partying and inspirational cultural highlights. In fact, the tourist office has a planned out 'Roman Itinerary' which includes architectural highlights and must-visit Italian artworks.
If you would like to head further inland away from the vibrant beach scene, some of the little towns and villages within the province provide a welcome slowing down. Make sure you visit the Santarcangelo di Romagna or San Leo, widely considered some of the prettiest spots in this region of Italy.