La Liga
2022/2023 season to be advised
La Liga is Spain's top professional football league.
Home to some of the biggest, most prominent and best-supported clubs in Europe, La Liga attracts fervent supporters from across the globe.
Rivalry, passion and talent combine to create the ultimate spectacle in Spanish soccer, and you can experience it live when you book La Liga packages to Spain. Notorious for provoking intense crowd reactions, La Liga is home to one of the most passionate club rivalries in the world. Frequent matches between Barcelona and Real Madrid, the strongest and wealthiest clubs in Spain, are known as 'El Clásico' and symbolise the divisions between Spanish royalists and the Catalan nation in the South of Spain.
Real Madrid and Barcelona might be the reigning superstars of La Liga, but the league is known for promoting local talent and has become one of the most open and competitive domestic tournaments in Europe. Kicking off in August, the 2021 - 2022 La Liga season will see 20 Spanish football clubs go head-to-head in what promises to be one of the most action-packed tournaments on the football calendar.
Enquire now about our 2021/2022 La Liga packages.
---
Testimonials
Due to TV scheduling, match fixture dates might change, make sure your accommodation covers that possibility. Our suggestion: stay min 3 nights wherever you are.
Caroline Jones
Product Development
Destinations
France's capital is a global centre for art, fashion, gastronomy and culture. Besides its famous landmarks such as the Eiffel Tower and the Notre-Dame cathedral, the city is known for its outdoor cafes, which will give you plenty of opportunities to enjoy casual dining and people-watching. Paris' fine-dining restaurants, bistros, markets and patisseries reflect other aspects of France's famed culinary heritage. Discover the designer boutiques along the Rue du Faubourg Saint-Honoré. Visit the famed Louvre museum, which houses Leonardo da Vinci's "Mona Lisa," or the Musée d'Orsay, which showcases works by Degas, Monet and Renoir. Explore the historically bohemian neighbourhood of Saint-Germain-des-Prés or Montmartre, home to Sacré-Coeur Basilica and sweeping hilltop views. For a bustling nightlife scene, head to Marais where nightclubs sit among restored 17th-century mansions.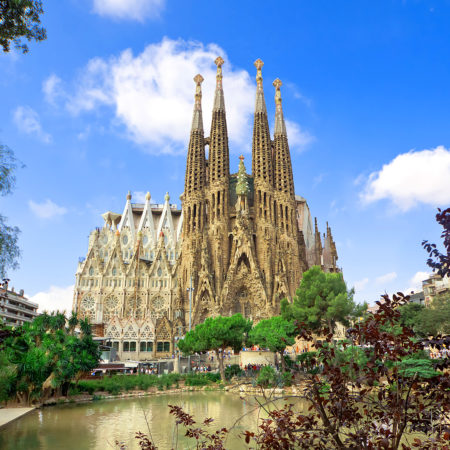 Much like its famous tapas, Spain itself is a seductive buffet of culture-rich cities, colourful markets, traditional villages, fantastical architecture and Mediterranean beaches. From marvelling at Gaudi's architectural masterpieces in Barcelona and exploring the museums and royal palaces of Madrid to rugged El Camino de Santiago-inspired hikes, Spain will give you countless opportunities to create the moments that move you. Embark on an off-the-beaten-track adventure into the mountainous terrain of the Basque Country. Spend lazy siestas on the uncrowded beaches of the south-west coast. Wherever you go in Spain, chase down authentic local cuisine with a jug of cold sangria and embrace the nation's spirit of living life to the fullest.