How do you feel about being Rugby World Cup Ambassador for Edusport?
Since my retirement from rugby 11 years ago I have taken some time off rugby, but since the incredible Rugby World Cup 2019 victory I have been getting back into the game. The opportunity to be an Ambassador for Rugby World Cup 2023 could not have come at a better time for me, I am absolutely ecstatic to have this honour, and I am very much looking forward to supporting the Springboks in France in 2023.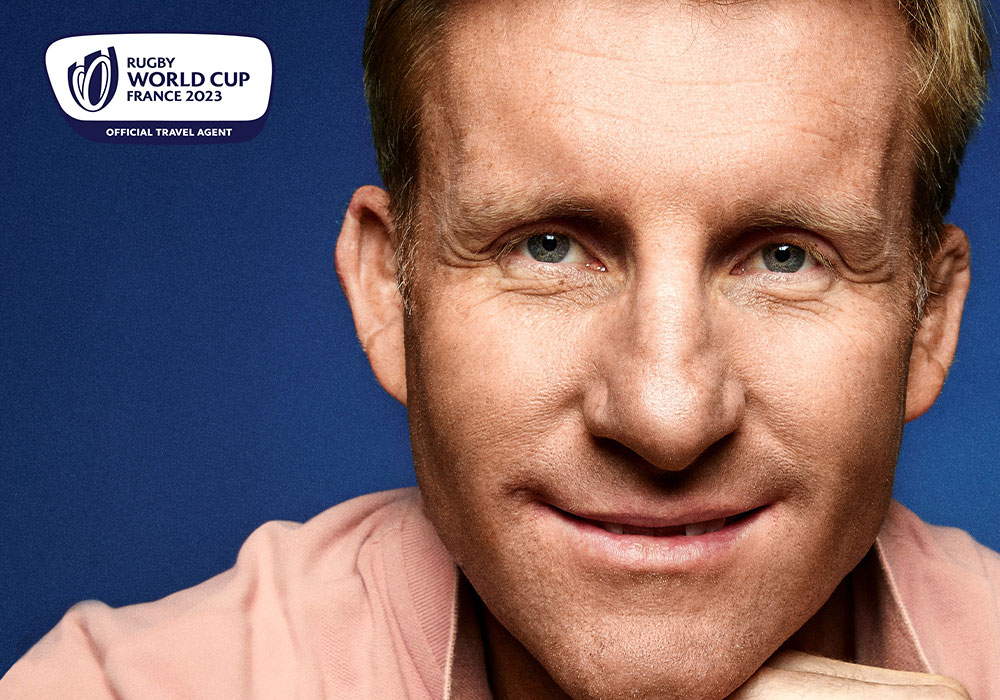 What are you MOST looking forward to for France 2023?
I am going to be honest here, apart from watching the rugby and supporting South Africa, I am really looking forward to drinking French wine on a vineyard somewhere in Bordeaux, visiting a castle in the region of Centre Val-de-Loire known for the best castles in France, and eating French cheese. I might come back a few kilos heavier!
What are your Springbok predictions?
I feel that the Springboks will have a huge burden on their shoulders going into the Rugby World Cup as current Champions, but I also believe that Jacques and Rassie come with enough experience to perform well again. I am also of the opinion that we have a strong camp of players with a lot of depth.
Any guesses for who will top each Pool?
Pool A is going to be a real killer with France the home team and the always in-form All Blacks, its very tough to choose a team this far out. For fun, let's say the French.
Pool B, I don't think South Africa could have asked for a better route to the Quarter-Finals. I am not disrespecting Ireland by saying this but I believe that at this stage the Springboks in current form are a clear favourite to win this pool.
Pool C, this is a difficult one to call; Wales is always strong when performing at this level, Australia can beat any team when they have their internal problems sorted and when they have a strong coach. I will go with Wales at current form.
Pool D, how many times have we seen Argentina crash big teams when no one expected it? They will be a strong contender in this pool but ultimately it will be England that will come out on top in Pool D.
What has been one of your most memorable moments as a South African rugby player?
This is an easy question, The very first time I represented the green and gold, it happened in the Millenium Stadium in Cardiff in 2002.
© Howard Cleland
Three things that we don't know about AJ Venter are:
I work for Edupower Skills Academy, we assist South African companies maximizing the points on their BBB-EE scorecard by means of skills development. In my private capacity I do talks to schools and corporates about mental health and how to stand back up after a dramatic event, which stems from personal experience.
I have my own podcast called Life with AJ Venter, it's on Facebook, YouTube and LinkedIn.
If you hadn't played rugby, what other sports would have been at the top of your list?
Over the years I have tried my hand every sport that I could, from barefoot water-skiing to American Saddle horse-riding and everything in between! I was competing at the highest level in athletics and rugby but really enjoyed golf, enduro, snow skiing and hiking as fun sports. But if I could choose a sport apart from rugby and athletics it would be snow skiing, I absolutely loved it!
© Howard Cleland
What is your ultimate Live Sport dream to watch? (ie: Premier League, Motorsport, FIFA World Cup?)
For many years I have not watched live sports, it was just a choice I've made for personal reasons, but to be honest I have thoroughly enjoyed the Olympics that just finished, I was glued to my screen at night after work!
What are you most passionate about?
I am passionate about life, I am passionate about improving, I am passionate about my family, I am passionate about the universe, I am passionate about the power of the mind and I am most passionate about my life partner Danielle Oldfield.
What does AJ do on the weekends?
Depending on the weekend but you might find me climbing a gorge in the Drakensberg or you might spot me sipping white wine on a wine farm in the Western Cape, some Saturdays you will see me in the gym and other days you might spot me on a bicycle in the bush. I love life and want to squeeze every bit out of it.
AJ Venter is Edusport's Ambassador for Rugby World Cup 2023. If you're interested in a Rugby World Cup package, then contact him on aj@edusport.co.za.