Dubai Sevens
01 – 03 December 2022
The Dubai Sevens kicks off the annual HSBC World Rugby Sevens Series, with fast-paced action at pitch one of The Sevens Stadium.
The event also hosts the Dubai Women's Sevens as well as the Invitation Tournament, which sees over 290 teams participate in a three-day rugby and netball tournament across all eight pitches and outdoor netball courts.
The Dubai tournament is a big hit with families: The Rugby Village hosts concerts and competitions, merchandise stalls and sponsored activities, while the Sabaa 7s Club is a buzzing venue for the kids. Parents can also enjoy a special families-only section of the stadium, with 2000 seats reserved especially for families.
Get into the festivities by dressing up, bringing your A-game and soaking up the passionate roars of approval from the crowd as another player dives over the tryline. The 2021 Dubai Sevens promises to deliver exceptional rugby yet again.
---
Testimonials
This is a great event to combine with the Abu Dhabi Grand Prix. Get to explore both Cities in one go.

Kelsey Bezuidenhout
Product Development
Destinations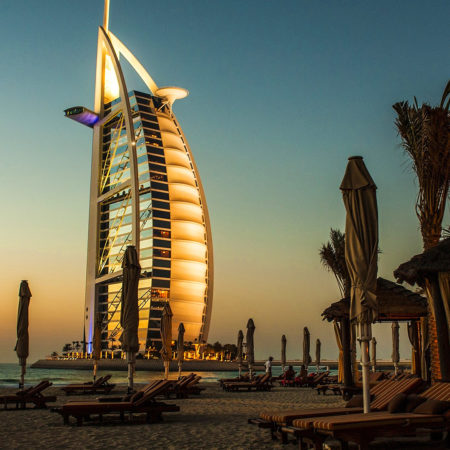 The city of Dubai is the largest in the United Arab Emirates and is situated on the south-east coast of the Persian Gulf. Initially a trade city, it started to gain revenue when oil was discovered in 1966. Today Dubai is a modern, global city: a significant transport hub, central to world business and iconic as a travel destination. Dubai is also home to the tallest building in the world, the Burj Khalifa, which towers above the already impressive skyline. There is simply an endless number of activities and sights to enjoy while in the city; some of the highlights include exploring the traditional Al Fahidi Historic District which has been well-restored to reflect the heritage architecture of the city, indoor skiing in the gigantic Mall of the Emirates, and of course, shopping. Dubai hosts two huge annual shopping festivals which see flocks of retail-therapy lovers streaming into the city from across the world. For lovers of both the ancient and the new, Dubai is certainly the buzz of the Middle East and a technologically modern epicentre.