Spanish Grand Prix
2023 dates to be advised
The Spanish Grand Prix is one of the oldest in the world, having celebrated its centenary in 2013.
Its modest beginnings as a production car race were interrupted by the First World War and again by the Spanish Civil War. The Spanish Grand Prix was successfully revived in 1967 and has since been a regular on the Formula One calendar. Held at the Circuit de Barcelona-Catalunya (formerly known as the Circuit de Catalunya), the Spanish Grand Prix is a challenge for both car and driver. The track's mix of high and low-speed corners and bumpy road surface makes for a physically demanding and mechanically challenging race.
For spectators, Elf Corner is among the best places to catch the action, as it is one of the track's few overtaking opportunities. The most successful driver here to date is Michael Schumacher, with a total of six victories. Among the current drivers, Kimi Raikkonen, Fernando Alonso, Sebastian Vettel, Lewis Hamilton and Felipe Massa have all claimed victories at Catalunya.
If you are keen to catch next year's Spanish Grand Prix in Barcelona, please complete our enquiry form and we'll be in touch!
---
Event Packages
Testimonials
The Circuit de Barcelona-Catalunya is easy to reach from the airport or city central by train; there's a direct line (R2) from the airport to Montmelo every 30 minutes and from there, its a 30min walk to the entrance of the circuit. If you're on a budget, buy food/drinks outside the circuit, as they are very overpriced inside.
Caroline Jones
Product Development
Destinations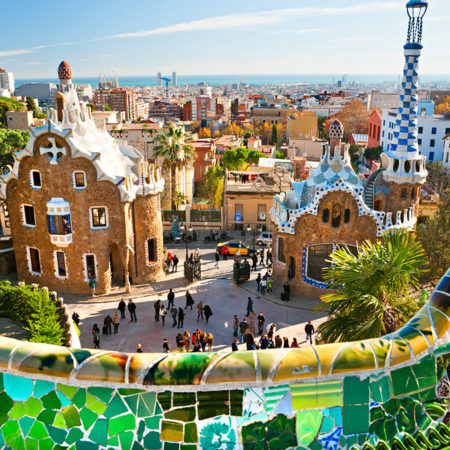 Barcelona, with its Catalan language and distinct architecture, is one of Europe's top tourist destinations. From the narrow, Gothic streets of the old town to the modern Eixample district, the city offers something for everyone. For art lovers, the Picasso Museum houses the most extensive collection in the country and one of the most notable in the world. If you are keen on architecture, the works of Antoni Gaudi and Lluis Domenech i Montaner are major draw cards. Gaudi's unfinished church of the Sagrada Familia has been under construction since 1882 and is a must-visit. Besides the city's myriad cultural (and foodie) attractions, Barcelona's beaches are sandy and welcoming. A short trip down to the coast between the Llobregat and Besos river mouths is the little town of Sitges, where you can enjoy a typical Spanish beachfront experience.