Belgian Grand Prix
26 - 28 August 2022
The Belgian Grand Prix was first hosted as a non-championship race in 1924, making it one of the oldest events in Formula One.
Besides its prestigious history, Belgium's Spa-Francorchamps, at an incredible 7 kilometres, is the longest track on the calendar. Notorious for being extremely dangerous, it is also a firm favourite among drivers and features a mix of long straights and challenging quick corners.
Set in picturesque, wooded surroundings in the town of Spa, the Belgian Grand Prix is a delight for spectators. The unpredictable weather means that it can often be simultaneously raining on one part of the track and dry on another, while Eau Rouge, with its high speed and sudden elevation change, maintains its reputation as one of Formula One racing's most technically demanding corners.
While grandstands are situated at all the key corners - La Source, Eau Rouge, Pouhon - one of the best ways to experience the dramatic racing and nail-biting moments of the Belgian Grand Prix is to walk around and take in as much as you can of the electrifying atmosphere. Share in the action at Spa-Francorchamps in August. Contact us today about the 2021 Belgian Grand Prix.
---
Event Packages
Testimonials
Belgium is generally a safe country, though it has been in the press for the wrong reasons. As with anywhere, you need to be more aware of your belongings and surroundings on public transport and around places such as train stations. Over the Grand Prix, makes sure you are prepared for wet weather as it does rain a lot especially in the hilly Ardennes region where the Spa Francorchamps circuit is located. Tip to save money: Tap water in Belgium is safe to drink, so avoid paying an extra €3 for a small bottle at the track.

Chantel Smith
Product Development
Destinations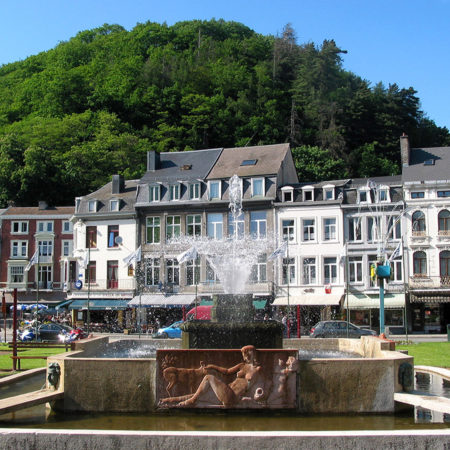 If you want tranquillity and relaxation, Spa is a charming little town filled with pavement cafes and outdoor restaurants. The home of 'the spa,' be sure to treat yourself to some hydrotherapy at Thermes de Spa and visit the remarkable Coo Waterfalls. Further afield in the Belgian province of Liège, visit the historic Palais des Princes-Evêques, the Curtius Museum and the Liège Cathedral. Head to the highest spot in Belgium the Signal de Botrange, or to Andenne to explore the Abbey Church. For a quick city break, head to Brussels. The Belgian capital is full of character, Baroque architecture, and more pavement cafes. Culture vultures, explore the city's many historical and gastronomic highlights, including the Grand Place and the Rue des Bouchers, which is famous for its seafood.