Stephanie Swartz
Sports Travel Consultant
Stephanie Swartz
Sports Travel Consultant
Edusport Sports Travel Consultant Stephanie Swartz shares her passion for sport, and why she's chosen a career in the sports travel industry.
What attracted you to working in the travel industry, specifically the sport travel sector? Tell us a bit about your career journey to Edusport. My passion for sports started very young watching my older brothers playing soccer every weekend. When I got the opportunity to work for Edusport I was over the moon! It's so rewarding hearing your clients' feedback after watching their favourite team, player or driver and having their lifelong sports moment come true.
What are some of the highlights from your career in sport travel, at Edusport? Standing in Stamford Bridge and Old Trafford Stadium is the stuff dreams are made of! I'm a passionate Premier League fan. Watching the Springboks play at The Rugby World Cup in 2015 at Twickenham, is also an experience I'll never forget!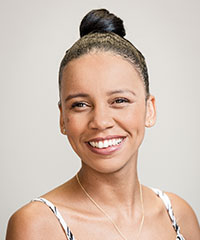 My Top 3 Sport Events
My top three events are the Premier League – it's called 'The Beautiful Game' for a reason! I also love the prestigious Monaco Grand Prix and UEFA Champions League Final – nothing in Club European Football can top this!
MY TOP TRAVEL TIP

Nothing in Club Football can top the UEFA Champions League Final; all my clients who've returned from this event are always blown away by their experience.