Shaz Hakim
Product Development Assistant
Shaz Hakim
Product Development Assistant
Edusport Product Development Assistant Shaz Hakim shares her career highlights in the sports travel industry.
What attracted you to working in the travel industry, specifically the sport travel sector? Tell us a bit about your career journey to Edusport.
I've always showed an interest in sport, no matter what. When I saw the opportunity to join Edusport, I grabbed it with both hands. Travel and sport are my two favourite things and Edusport is a combination of the two. It's perfect!
What are some of the highlights from your career in sport travel, at Edusport?
Learning new things every day, it's never a boring day at Edusport!
What top 3 Sport Events would you would like to attend?
The Grand Prix, UEFA Champions League and English Premier League.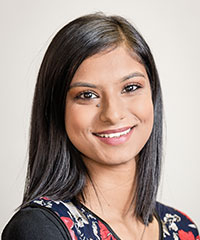 My Top 3 Sport Events
My top three events are the English Premier League, the UEFA Champions League and the Grand Prix. I love football and motorsport!
MY TOP TRAVEL TIP

Travel light as you will definitely be bringing back things from overseas and you don't want any complications with oversized luggage.