Deirdre de Swardt
Sports Travel Consultant
Deirdre de Swardt
Sports Travel Consultant
Edusport Sports Travel Consultant, Deidre de Swardt shares her bucket-list sporting events and her journey within the travel industry in South Africa.
What attracted you to working in the travel industry, specifically the sport travel sector? Tell us a bit about your career journey to Edusport.
Travel is my passion! I have been in the travel industry for almost 15 years, and to combine my travel passion with my sports passion is just the best. I love assisting clients fulfil their travel and sports travel dreams.
What are some of your bucket-list sporting events you'd love to watch live?
Definitely the Rugby World Cup! Being defending Champs, the 2023 World Cup will definitely be a great experience. Hong Kong 7s has always been a dream of mine and of course a Moto GP or F1 would be amazing to see!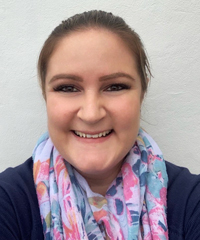 My Top 3 Sport Events
On my bucket list would be to go watch the Rugby World Cup live in France in 2023, as well as to watch one of the Rugby Sevens tournaments, as well as the Abu Dhabi Grand Prix.