MotoGP France
2023 dates to be advised
The MotoGP France is truly one of the most exciting events on the French sporting calendar.
The Le Mans Bugatti Grand Prix race circuit, built in 1965 and lying 200 kilometres south-west of Paris, was struck off the racing calendar in 1995 when a serious accident to a Spanish rider forced more strict safety precautions into play. Luckily for fans, the circuit was reopened in 2000 and continues to remain a favourite for France MotoGP enthusiasts.
This tight track features just 14 corners and a straight of 674 metres, not offering many opportunities for overtaking, but which requires hard and fast acceleration to gain the advantage. The Bugatti circuit also hosts the 24 Hours of Le Mans endurance race, which represents one leg of the Triple Crown of Motorsport (alongside the Indianapolis 500 and the Monaco Grand Prix).
Your 2023 MotoGP France package includes opportunities to upgrade your ticket to include VIP hospitality and additional grandstand options. Sign up now, and one of our consultants will be in touch with you to discuss package inclusions and options as soon as they become available.
---
Event Packages
Testimonials
Le Mans - while known as a haven for motorsport fans around the world - is also a particularly pretty town offering an authentic French experience. Don't miss out visiting the famous Roman Wall, which wraps around the Old City and fatures 12 lookout towers.

Kelsey Bezuidenhout
Product Development
Destinations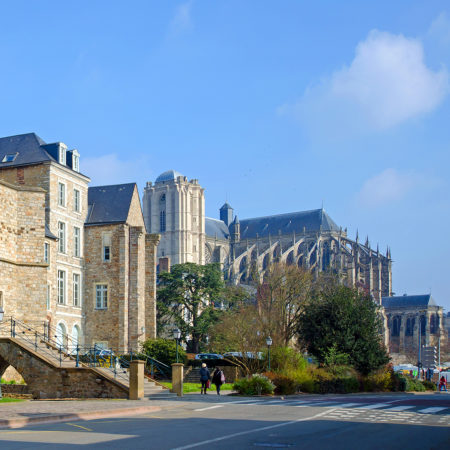 Le Mans is often eclipsed by the annual 24-hour endurance race held on the edges of the city, but this former capital of Maine is bathed in rich history. The gloriously restored old town features beautiful reminders of the past around almost every corner. Discover lovely narrow streets, stone houses with intricate details, colombage (timbered buildings) and the charming slate roofs common to this area of France. From the inspired architecture of the Saint-Julien cathedral and the restored ruins of the Epau Abbey to the eclectic collections of the Musee de Tesse museum, the "Cite Plantagenet" is certainly one of France's best-kept secrets. There are so many reasons to explore and get lost in Le Mans, but for motorsport fans, the city is a real delight, with the Circuit de la Sarthe and the nearby Automobile Museum as not-to-be-missed highlights.